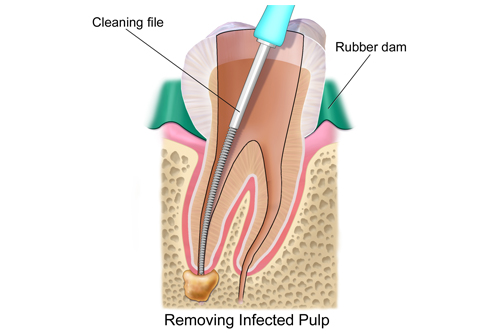 Looking for root canal treatment in North York and Vaughan. Dentistry on Dufferin offers excellent and effective treatments when it comes to root canal treatment in North York and Vaughan.
Root canal is the natural cavity within the middle of the tooth. The tooth pulp is the soft area inside the root canal, which is where the tooth's nerve is found. A root canal treatment is used to repair and save a tooth that is heavily decayed and becomes infected. A root canal treatment will allow you to keep your tooth, rather than removing it.
When a root canal is an option, saving your natural tooth is the best choice. If you experience tooth pain or discomfort, it may be a sign that you have an abscessed or infected tooth. If a root canal treatment is needed, it should be done quickly in order to save the tooth that is decayed or infected.
Without a root canal treatment, you may experience serious problems including infection and swelling around the face, head and neck area, and there is a chance the tooth will need to be extracted.
Once a root canal treatment is performed, your tooth will look and feel as it did before; the only exception is that you will not feel the sensation of hot or cold.
Call Dentistry on Dufferin in Toronto, North York and Vaughan if you are experiencing any pain so we can stop any further complications from developing. Do not delay in visiting your root canal dentist to have an examination and have the necessary treatment needed.